National Trails Highway – Route 66
Route 66, also known as "the Mother Road", "Will Rogers Highway" or "the Main Street of America", was constructed in 1926 from Chicago, Illinois to Santa Monica, California. However, the road's origins travel even further back in time before it was paved as one of the country's first transcontinental highways "National Old Trails Road". The road has served this country well as families left the Dust Bowl and headed west to California during the Great Depression; moving troops and supplies during World War II; and becoming a destination in itself to travelers seeking freedom of the open highway.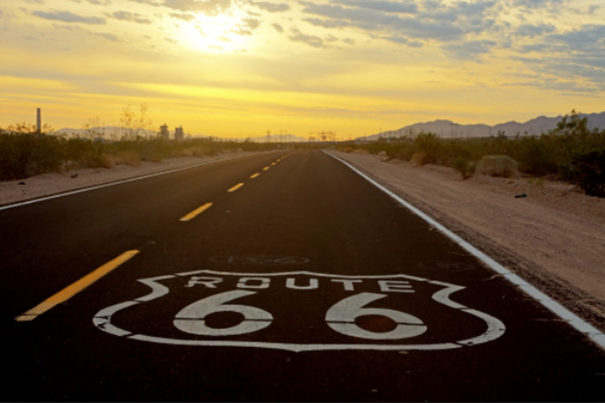 Today, in excess of 250 miles of National Trails Highway (Route 66) can be found in the County of San Bernardino and the County Department of Public Works maintains nearly 150 miles from Needles to San Bernardino as shown on our interactive maps. And although Route 66 is no longer a main route across the country, it is a national treasure to be preserved and enjoyed for generations to come.
The information on this site pertains to the reach from the easterly edge of Barstow (Nebo Street) to the Mountain Springs Road/I-40 entrance. This section of the roadway has 128 timber bridges that were built more than eight decades ago, and all are displaying the negative impacts of many years of weather, flash floods, truck traffic, erosion, earthquakes, animal life and other factors. By reconstructing and rehabilitating the aging bridges, the safety, vitality, historical preservation, and accessibility of one of America's greatest treasures will be reinstated.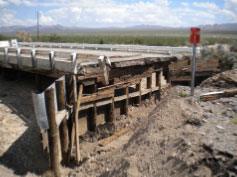 It is critical to the entire length of the highway that the remaining 126 timber bridges on the alignment in San Bernardino County are rehabilitated or rebuilt in order to provide safe passage for the many tourists and open-road travelers from around the globe who come to this country to make the drive of a lifetime on such an historic roadway. The two fastest growing markets focused on heritage travel on the highway are China and Brazil. Every day, besides growing numbers of domestic travelers, visitors from throughout Europe, the Pacific Rim and the Americas can be found on Route 66. They contribute to the economic development of the businesses and communities along the way. Much-needed improvements will prevent additional road closures and eliminate recent weight restrictions to accommodate all modes of travel and the movement of goods.
This site provides information for several ongoing efforts to improve and restore the roadway.
Funding and Future Projects
Active and Completed Projects
Road Closures and Weight Restrictions
Environmental and Agency Coordination
Maintenance Projects
Additional Information
Contact us at: Department of Public Works Operations: 909-387-8040